MAQPRO is a French creator and manufacturer of high end make-up products.
MAQPRO is a family company, backed by more than 30 years of experience, which guarantees you an active and successful collaboration, thanks to a unique know-how.
The Maqpro products are manufactured in France in our factory. We are the first brand of cosmetics to receive the « Origine France Garantie » (« O.F.G ») certification (Certification via Veritas, N° 6012817, on the 24
th
of January in 2012).
We are proud to provide our clients with a handcraft manufacturing, produced from the noblest and most natural raw materials, while fully observing the existing legislation.
New products and new colours are regularly added to our ranges, for the greatest satisfaction of our clients.
The french and abroad distributors can sell the MAQPRO products, or they can create their own range with our help –
private label
– without any additional cost and in very low minimum orders.
The make-up professionals can find at MAQPRO the best suited products for their requirements, as well as all the technical help they need, provided in trainings or in bespoke make-up advices.
At the MAQPRO show-room in Paris, the retail audience benefits from advices given by our experts about the search for a foundation, and possibly the creation of a specific colour adapted to their skin tone, as well as bespoke make-up classes.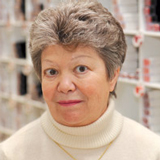 Nine BRUNNER
Chairwoman