You are eligible to benefit from our FIRST AID WORKER preferential rate if you are attached to an ORGANISATION or an ASSOCIATION duly authorised by the Direction de la Défense et de la Sécurité Civiles or if you are part of an Army department, of the Éducation Nationale or else.

Agencies :
Your order will have to be established by an official document.

Associations :
On letterhead.

In every cases, the order will have to be signed by the authorized person.
It can be sent by mail or by fax (01 42 25 12 20).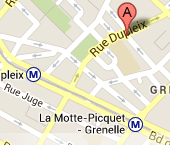 Enlarge map
Maqpro
2 Ter rue Alasseur- 75015 Paris
Metro : La Motte-Picquet Grenelle
(lines 6, 8 et 10)
Tel. : (+33)1 42 25 10 11
Fax : (+33)1 42 25 12 20
Opening hours :
From monday to friday
9:00 AM - 1:00 PM
2:00 PM - 6:00 PM
Private persons :
If you order personally, as a trainer or instructor, you will have, the first time you order, to give us a copy of your certificate or patent :
CFAPSE - CFAPSR - DPSMS - BNMPS - BNIS.
The payment of the order will have to be done : by check or by credit card if you order by telephone, fax or email.
When you will order the next times, you will just have to give us your client number, which will be written on the bill sent for your first payment.
Deliveries :
From 35 € ht.
All the orders are, in principle, delivered within 48 hours in metropolitan France, and within 3 to 4 days in Europe.
For the other destinations, please contact us.
The shipping price is paid by the buyer, and its amount is calculated according to the weight of the order and the destination.
If you whish to know the exact amount of the shipping and packaging prices, please ask for an estimate, attaching your order project.